Monster Mini Golf
Yonkers, NY
Location
Contact
Special Hours
Christmas Eve: 11am – 5pm
Christmas Day: Closed
New Year's Eve: 12pm – 6pm
Hours
Monday - Thursday

:

11am - 9pm

Friday - Saturday

:

11am - 10pm

Sunday

:

11am - 8pm
Pricing
ATTRACTIONS pricing
MINI GOLF

Little Monsters – $13.00
Big Monsters – $14.00
Seniors, Military, College Students – $11.00 (With valid ID)

MINI BOWLING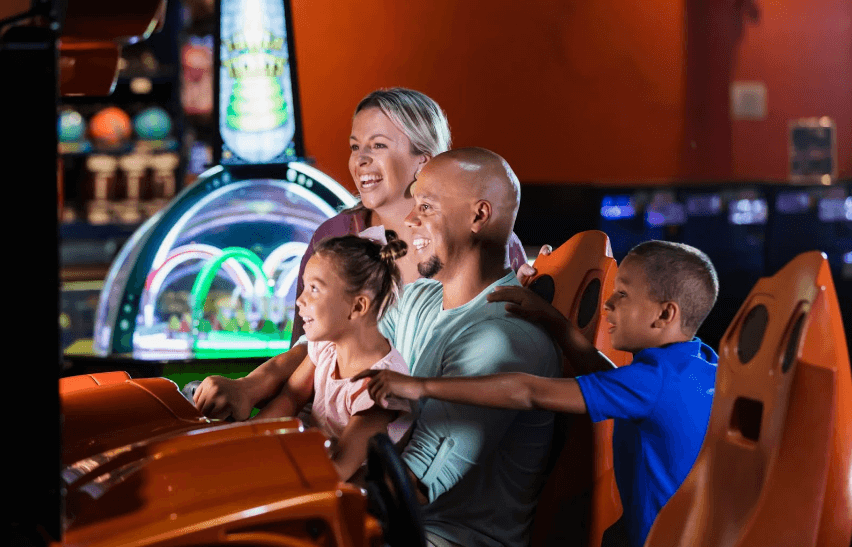 ATTRACTION Combinations
Purchase Attractions Online
Looking to pre-purchase Attractions Combinations or Arcade Game Play before you head up for fun? We've got you covered!
Our Monsters are Social!
Follow us on social media today in order to stay connected to all deal, events and updates!
Join the club and stay connected!!
Join our Email Club today and receive up to 40% OFF your first visit!
Monster Mini Golf in Yonkers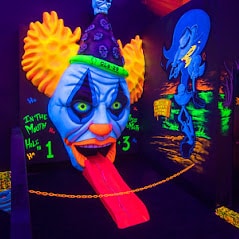 Welcome to Monster Mini Golf, Yonkers location, inside the Ridge Hill Mall. Prepare yourself for a thrilling and unique mini golf experience like no other. Located near the Hudson River, our exciting indoor glow-in-the-dark facility offers a one-of-a-kind adventure for monsters of all ages.
With its hauntingly fun monster-themed decor and creatively designed holes, you'll step into a world where imagination comes alive.
Whether you're looking for an unforgettable family outing, a memorable date night, or a place to hang out with friends, Monster Mini Golf, Yonkers location in Westchester County guarantees hours of entertainment and laughter. So grab your monsters and get ready to take on the challenge of our monstrous miniature golf course that will leave you wanting more.
Create a custom event at Monster Mini Golf in Yonkers today.
Mini golf with a monstrous twist
Get ready to embark on a mini golf adventure like no other at Monster Mini Golf, Yonkers, NY, location. We've taken the beloved game of mini golf and turned it into an out-of-this-world experience with a monstrous twist. Our indoor glow-in-the-dark facility will immerse you in a spine-chilling atmosphere filled with larger-than-life monster-themed decor, eerie sounds, and mind-bending neon lights.
We pride ourselves on offering an unforgettable experience for all ages. Putt your way past creepy gargoyles, navigate through haunted graveyards, and avoid the clutches of lurking monsters as you make your way through our uniquely themed course.
Arcade gaming for monsters of all ages
We don't just offer a thrilling mini golf experience with a monstrous twist — we also have an arcade gaming paradise that will excite monsters of all ages. Step into our state-of-the-art arcade near New Rochelle and immerse yourself in a world filled with flashing lights, exciting sounds, and the latest games.
Challenge your friends to epic battles on popular multiplayer games, or compete against yourself for high scores on classic arcade favorites. Collect tickets as you conquer each game and trade them in at our prize redemption counter. Our selection of prizes ranges from small trinkets to larger rewards — perfect for celebrating your victory or taking home a souvenir from your unforgettable visit.
Glow-in-the-dark mini bowling
When searching for New Rochelle bowling, get ready to experience a bowling adventure like never before at Monster Mini Golf in Yonkers. Discover our exhilarating glow-in-the-dark mini bowling, where the lanes come alive with vibrant neon lights and electrifying energy.
Step into our monster-themed bowling alley and feel the adrenaline rush as you aim for strikes amidst the glowing atmosphere. The blacklights, dazzling effects, and funky music create an otherworldly ambiance that will transport you into a whole new dimension of fun.
Monster-themed birthday parties
Looking for the best birthday party venue in Yonkers with a monstrously fun and unforgettable birthday party experience? We specialize in hosting monster-themed birthday parties that will leave your little monster and their friends with memories that will last a lifetime.
Our dedicated party hosts will ensure your child's special day is filled with excitement, laughter, and plenty of unique surprises. Start the celebration by exploring our glow-in-the-dark mini golf course, designed to thrill kids and adults.
Next up: an action-packed visit to our state-of-the-art arcade gaming area. Your guests can challenge each other in games suitable for all ages. But the fun doesn't stop there.
Our monster-themed birthday parties also include a private party room decorated with vibrant colors and filled with monster-inspired elements. Our experienced staff will take care of all your party needs, from setting up the room to serving delicious refreshments.
With our diverse customizable packages, options, and attention to detail, don't waste time searching for 'birthday party places near me' when we ensure that every aspect of your child's birthday celebration is tailored to their preferences. Sit back, relax, and enjoy watching your little monsters have a blast on their special day at Monster Mini Golf in Yonkers.
Monstrous events for all occasions
No matter what type of event you're planning, Monster Mini Golf in NYC and Yonkers is here to provide a monstrously fun and memorable experience for everyone involved.
Field trips: Our indoor glow-in-the-dark facility offers a safe and entertaining environment for all ages as they have a blast exploring our creatively designed, monster-themed course
Group events: Looking for an outing that brings colleagues, friends, or social groups together? Our facility can accommodate groups of all sizes with options like team-building challenges and customized packages available.
Fundraisers: Make fundraising a monstrous success with our unique event options. We'll work with you to organize an event that maximizes participation and generates funds for your organization or charity.
Promotions: Looking for an innovative way to promote your brand or product? Our eye-catching monster-themed decor, high foot traffic, and engaging activities will attract attention from existing customers and potential new clients.
Experience Monster Mini Golf today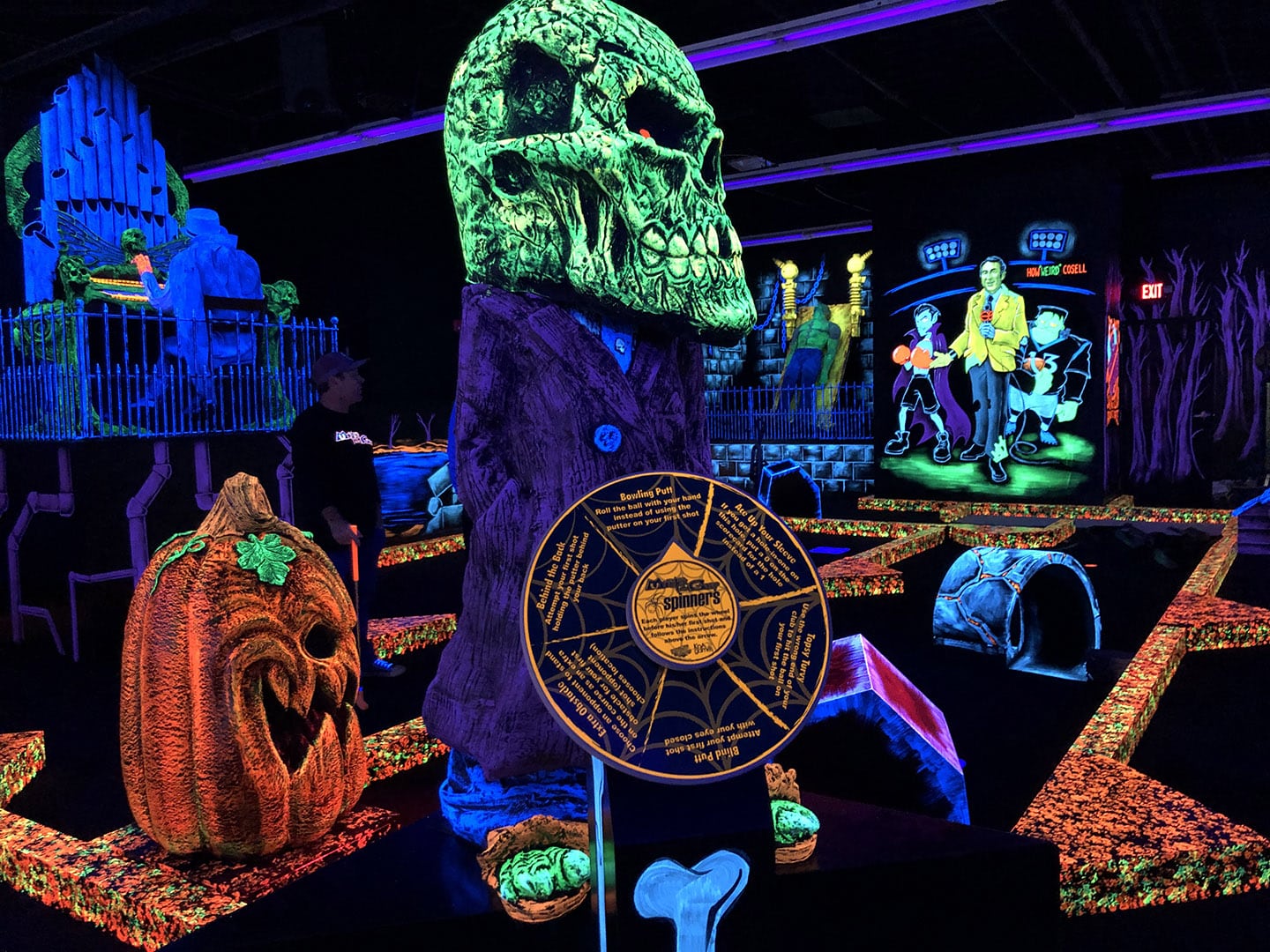 Visit us today at our indoor glow-in-the-dark Ridge Hill mini golf facility located in Yonkers inside the mall. Step into an immersive environment filled with jaw-dropping monster-themed decor, mind-bending neon lights, and creatively designed holes. Our friendly staff welcomes you with open arms and ensures your visit is nothing short of extraordinary.
Book your birthday party or special event online or call (914) 346-5072 today.
FAQs
If you're still hungry for more information about mini golf, don't worry. The following are some of the most common questions people have about the game. If you have questions, we have answers for you.