ARCADE
The fun doesn't stop when you've finished your 18 holes. Head on over and find a Monstrous Gaming Arcade near you! Get your little monsters ready for the best day yet. We have games for adult-sized humans as well. Then collect your gaming tickets and redeem them for a prize. When you play, you win!
After playing a game or two of Monster Mini Golf®, humans of all ages will have a blast playing games and winning prizes in our state-of-the-art Arcade. You can play alone or challenge your friends and family in fun competitions… the choice is yours!
Our Arcade truly offers a monstrous dose of family entertainment, through a vast array of options which appeal to humans, both young and old! From the newest technology to those timeless classics, there is an abundance of excitement awaiting our guests.
Carefully designed and featuring Adventure Games like Jurassic Park, classic Ticket Givers like Big Bass Wheel, and Carnival Style like Down-a-Clown, our arcade will keep the youngsters busy loading up on prize tickets and giggling non-stop. The more prize tickets they collect, the bigger the rewards… more fun for all!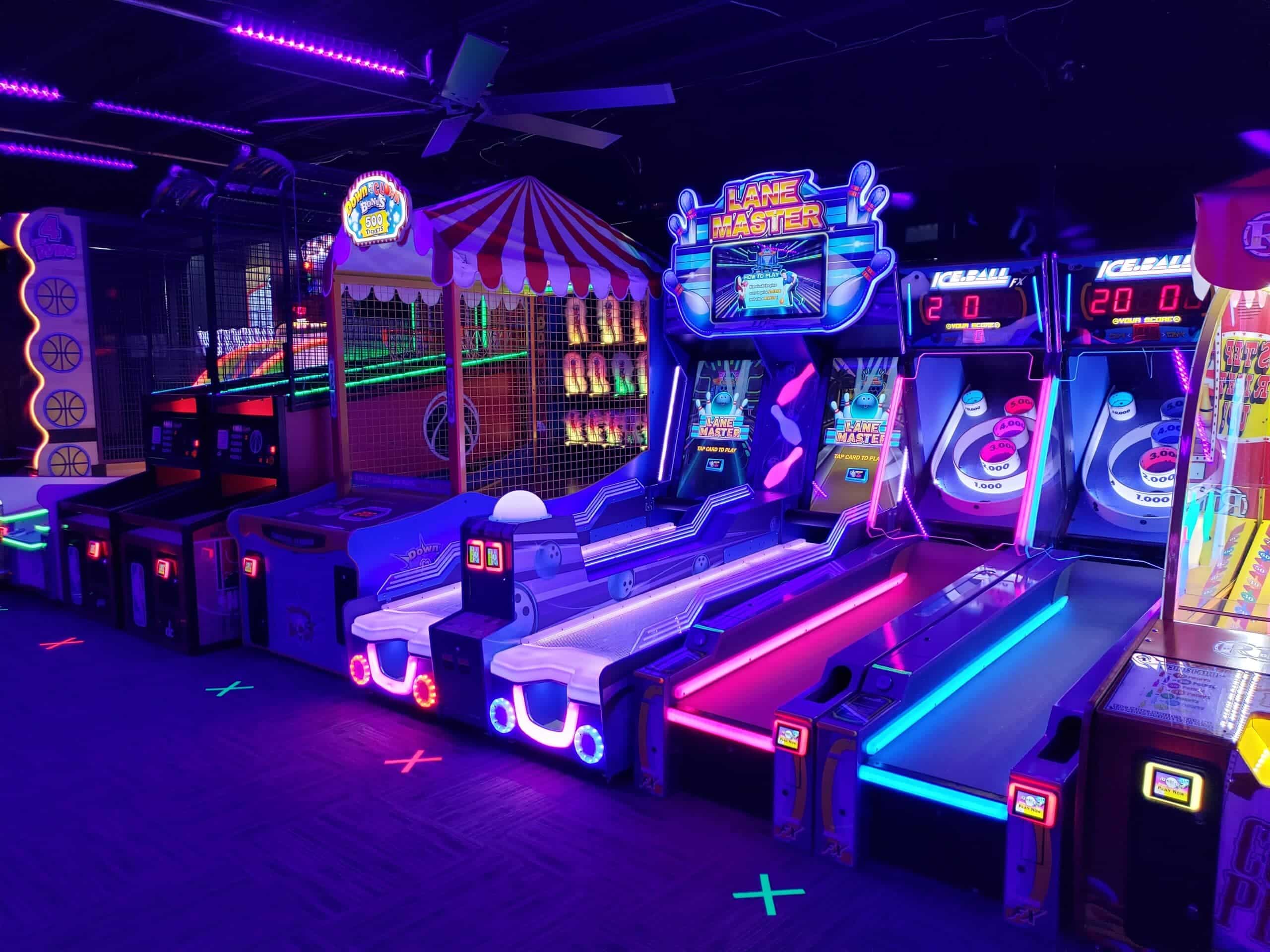 As with anything we do, age-appropriate options are positioned so that humans of all ages receive the experience they desire. For the young at heart, we offer classics such as Skee Ball, Glow Air Hockey, and Basketball Hoops. Rack up a high score and challenge your friends to beat it. Adult humans also earn prize tickets you can keep and redeem yourself or give to your mini-me.
Prize Cranes offer the chance to test your skill and win great prizes. It's all here. Are you ready to play?
Plan a monstrous surprise party for your favorite human by booking a private event at one of our locations today.
MONSTROUS PRIZES AND SURPRISES
Playing our games is only a portion of the fun! When you play, you win! Humans can earn tickets as they compete, and at the end of your quest, redeem your earnings for a king's ransom of rewards at our redemption prize center.
Humans, old and young, do not need to redeem their ticket earnings right away. Instead, you can save your ticket value and continue to add to it for even larger prizes and rewards every time you visit our monstrous gaming arcade. Then, once you reach your goal, celebrate by dancing the "Monster Mash!"
From small trinkets and gadgets to large plush animals and electronics, we have something for everyone! Glowing is our business, and our monster's stock the shelves with plenty of glow items: hats, bead necklaces, wacky bracelets, and zany glasses that are sure to have you shining in the dark!
When you search for an arcade and mini golf near me, remember all our locations are indoor mini golf courses and monster arcades. So, you never have to worry about the weather ruining your plans.
Book your monster celebration or special event for as many guests as you want. Find out more now.
MONSTROUS SPECIALS AND IMPROMPTU CELEBRATIONS
Looking to save here and there, you can purchase Attractions Combinations, where arcade value is bundled with Mini Golf and other attractions at a discounted price. Also, from time to time we offer arcade specials humans can take advantage of on different days of the week. Check your local store for applicable details.
Looking for a small group celebration, with the costs of a traditional Birthday Party Package? Our Pop-Up Mini Golf Parties are impromptu, on-the-spot parties to celebrate special events, like birthday parties or anniversaries. Enjoy a personalized celebration for your group of humans of all ages, which include: