EXPERIENCE HEART-PUMPING FUN WITH MONSTER MINI GOLF'S LASER TAG
Welcome to the crypt! Get ready for a heart-pumping and adrenaline-fueled experience with Monstrous Laser Tag, a high-energy, fun, team-based game perfect for anyone wanting to have a good time with their friends or family.
Are you ready for a fun and exciting night of laser tag? Book your experience today at Monster Mini Golf®!
What Is Laser Tag?
Laser tag is a fun and exciting game played by individuals or teams using infrared-emitting phasers or guns to tag their opponents with the goal of gaining points. The game is commonly played in indoor or outdoor arenas and typically involves various challenges and obstacles.
When a player is tagged, their vest or phaser typically lights up or vibrates, indicating they've been hit. The game was conceived in the 1970s, with the first laser tag center opening in Dallas, Texas, in the mid-80s, and it continues to be a popular activity for people of all ages.
Book Your Laser Tag Birthday Party or Event!
Now that you know the basic rules and tips for playing laser tag, it's time to book your adventure with us. We look forward to giving you and your friends an unforgettable night out at Monster Mini Golf®!
When you're searching for "laser tag near me," you won't find a better experience than at Monster Mini Golf®. Happy tagging!
How To Play Laser Tag
Playing laser tag is simple, and it's a great way to have fun with family and friends. First, you'll need to find a laser tag center nearby. Once you're there, you can follow these basic steps to get started:
Overall, laser tag is a fun, competitive, and active game that's perfect for any age group. So, if you're a beginner or an experienced laser tag player, head to Monster Mini Golf® and experience heart-pumping laser tag fun.
Laser Tag Birthday Party Fun!
If you're looking for a unique and exciting way to celebrate your child's birthday party, consider trying one of our epic laser tag birthday parties at Monster Mini Golf®! With our variety of party packages, Monster Mini Golf® offers a unique laser tag and mini golf experience perfect for children's birthday parties.
When the kids are done playing laser tag, they can continue the party with a range of fun activities, including:
At Monster Mini Golf®, your little ones can enjoy an unforgettable laser tag experience followed by hours of fun, engaging activities.
The birthday party packages can be tailored to your specific requirements, including a love for laser tag birthday parties!
A Fun Night For Friends Playing Laser Tag
Looking for an adrenaline-fueled night playing laser tag games with your friends? Look no further than Monstrous Laser Tag! This high-energy, team-based game of skill is perfect for players ages five and up. Picture high-tech hide-and-seek or capture the flag, but with lasers!
The Monstrous Laser Tag arena is a thrilling, interactive space complete with fun effects like fog, black lights, targets, music, and creative decorations.
Monstrous Laser Tag isn't just any old laser tag game. We offer Special Missions and a range of game variations to add even more excitement to your night out. So bring your friends and get ready for a heart-pumping, unforgettable experience at Monster Laser Tag!
Tips For Winning At Laser Tag
If you want to be the champion of your next laser tag game, here are some tips to help you out:
Be stealthy and strategic: When playing laser tag, it's important to move around quietly and strategically. Avoid making noise and stay hidden from your opponents as much as possible.
Keep moving: Standing in one place makes you an easy target for your opponents. Keep moving, and don't be afraid to use the obstacles to your advantage.
Team up with others: Playing as a team with your friends is key to winning laser tag. Work together to come up with a strategy, and use your teamwork to your advantage.
Aim for the vest: The vest is the most valuable target when playing laser tag. Aim for laser tags on your opponent's vest, and try to hit it as often as possible.
Avoid getting hit: Losing points for getting hit can hurt your chances of winning. Stay alert, and avoid getting hit as much as possible.
Practice, practice, practice: The more you play laser tag, the better you'll get at it. Practice your aim and movement skills to improve your chances of winning.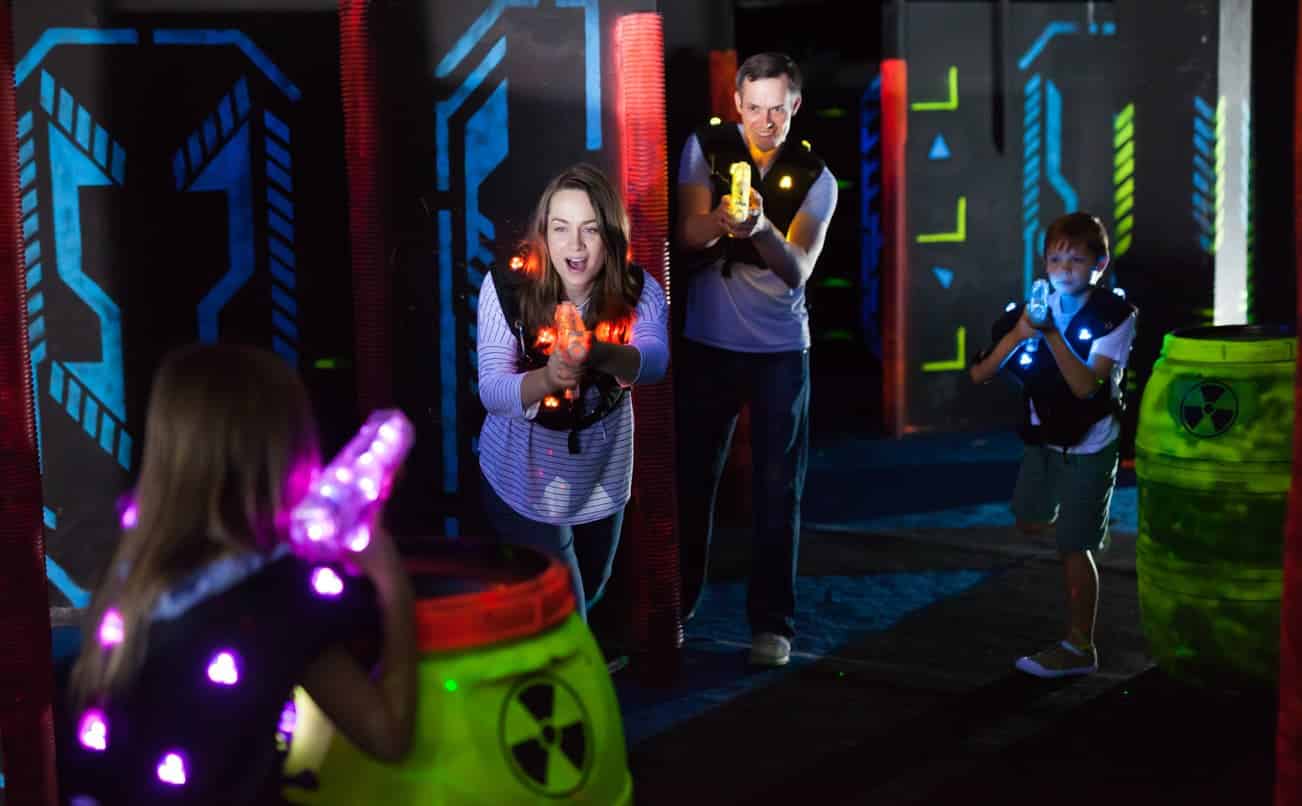 Monster mini golf® Laser Tag fAQs:
monster mini golf® Laser Tag Near me: